The IUM, Monaco Impact and the Monaco Oceanographic Museum join forces to protect the oceans
On Monday 9 October 2017 the International University of Monaco (IUM), Monaco Impact and the Monaco Oceanographic Museum strengthened their collaboration by signing a partnership agreement.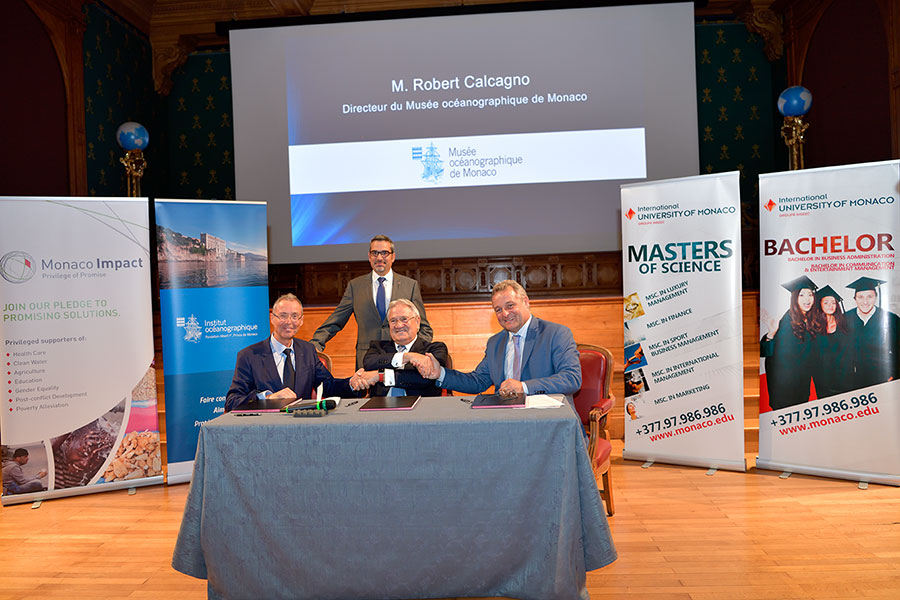 The aim of the partnership is to raise awareness of environmental themes, and in particular the protection of the oceans, among young people.
IUM students will be the driving force behind a study project that will run until the summer of 2018 and that will focus on developing proposals for innovative solutions and new digital and environmental mediation tools.
Jean-Philippe Muller, Director of the IUM: "This partnership fits in perfectly with the International University of Monaco's mission, which is to train managers and responsible entrepreneurs committed to innovation and sustainable development; while contributing towards Monaco's international reputation".
Robert Calcagno, Director of the Museum: "We need younger generations to think 'out of the box' to shake our certainties. The Oceanographic Institute's mediation mission must be enriched with new visions. I am convinced that this educational exercise is a tremendous way to create boldness, commitment and action among young people". Mr. Calcagno will also make a speech to 250 students about "Monaco and the Ocean".
Monaco Impact is committed to contributing towards the positive image of the Principality of Monaco as a centre of social impact. Towards this end the Association initiates and supports charitable Social Impact activities and has also launched an "incubator" initiative that offers young Monaco-based entrepreneurs and business start-ups mentoring and financial support and encourages them to include a "charity" or "social impact" dimension in their business model. In this area Monaco Impact often cooperates with the IUM.
At the end of the study project an award will be given for the best proposal and Monaco Impact will participate in its further development.
Peter Kütemann, President of Monaco Impact: "Promoting entrepreneurship in young people and helping them, through mentoring and support, to develop a global vision of social and environmental issues is very important. We will be happy to award the best project proposal and participate in its development and possible implementation."
Follow the evolution of the project on social networks:
#OceanoMonacoCampus #OceanoMonacoIUM