Take a look at the reports on the Ocean Protection project!
Some of the Monaco Turtles, Sharks, Sailors and Ocean's 4 are still onboard the adventure that is the development of their respective projects on Ocean Protection.
Supervised by the Oceanographic Museum of Monaco, students from the International University of Monaco (IUM) are using the reports that they wrote for the final presentation that took place last May 3rd as a stepping stone to evaluate the feasibility and the cost of their projects.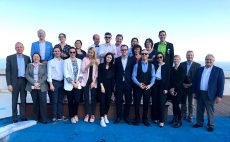 1- Written Report Monaco Turtles
A digital escape room with a « Save the Oceans » theme. The room would teach participants how to promote Ocean Protection and how to take action. It will also be personalized to the participants' age with three age groups: 4-10; 11-17 and 18+.
Other ideas are mentioned:
Setting up a picturesque coral-wall on top of the Museum
Putting digital screens showcasing corals that people could walk upon, allowing them to "experience" the aggradation of the ocean due to positive initiatives
Inviting the Australian influencer Robert Irwin to come to the Museum to shoot a series of episodes on Ocean Protection/Pollution
2- Written Report Ocean's Four
A mobile app named « Save the Oceans » to raise awareness on Ocean Protection.
The app would allow to buy a ticket, access information, participate in a fun game and establish an interaction with the visitor. The app would also allow to geolocate the visitor once he/she is inside the Museum so that the spots where the visitor spend more time are listed as well as the neglected ones. This data would enable the Museum teams to refine their Ocean Protection message.
The objective of the game, Catch Me IF You Can, is to catch fish to get the currency of the mobile application: pearls. With the pearls, gifts can be unlocked and advantageous features obtained.
The app also gives an incredible experience in reality: the user takes a photo with his/her mobile phone and gets 3D-information on the phone screen.
A challenge to come up with the best shocking video in order to raise awareness about ocean plastic pollution. Participants would have to film actual pollution on famous beaches around the world. A hashtag, #ACTNOW, would be used to encourage people to take action after viewing the video.
A competition among young people to design a recycled bag made from ocean waste. The winning prototype of this competition led in partnership between Adidas and the Oceanographic Museum would be produced and sold by Adidas who would then give back some of its revenues to the Albert I Foundation.
In order to promote the competition, a social media challenge would be organized. Starting with a famous influencer in the marine world, for instance Pierre Frolla, a diver that is also an influencer, people would challenge their friends to take a bit of water in their mouth and try to pronounce "Musée Océanographique".