Rediscovering the Oceanographic Museum and getting inspired with Nick Gray
On 18 April Monaco Impact members were privileged to be invited to the Oceanographic Museum for the launch, by S.A.S Prince Albert II of Monaco, of the illustrated comic book "Albert I of Monaco, The Explorer Prince". This event not only highlighted the significant role played by Prince Albert I as a pioneer in oceanographic exploration and oceanography, but also emphasized the role of today's explorers as advocates of ocean protection.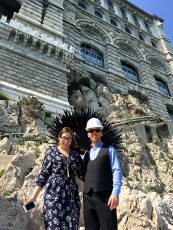 The launch, plus the approaching deadline for the Ocean Protection project – a collaboration between the International University of Monaco (IUM), Monaco Impact and the Oceanographic Museum – were a very good opportunity for Monaco Impact and the Oceanographic Museum to invite Nick Gray, founder of Museum Hack, to Monaco. The visit was arranged by Linda Blanshay, a Monaco Impact member from California, who also made the trip from the United States.
Nick started the Museum Hack company after his passion for giving his friends unusual and amusing tours of the Metropolitan Museum of Art in New York City created a "buzz". The premium tours provided by Museum Hack are changing the way people perceive museums and are attracting more and more people to visit the local museums they previously saw only as tourist attractions.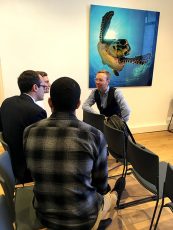 Passing on his insights and vision to the IUM Masters students carrying out the Ocean Protection project was a key goal of Nick's visit and he spent the day after the launch on the "Rocher" with the Museum's staff, some members of Monaco Impact and the IUM students.
Nick introduced himself and immediately caught the students' attention with his amusing way of telling stories. After breaking the ice by asking everyone what their favorite breakfast food was he listened to the students' ideas for the Project and spent time with each of their groups.
New and innovative ways to encourage people to visit the Museum and become involved with protecting the oceans remained the focus for the next part of the day.
The IUM students, Monaco Impact members and Nick (re)discovered the Oceanographic Museum from a new perspective when, with the aid of virtual reality masks, they 'went diving' in the waters off the Philippines. This amusing experience was followed by an unusual 'guided tour' of the Museum's curiosity cabinet led by an improvisational comedian who both frightened and entertained the audience by asking people to get into a diving suit or pretend to be in a submarine.
The day ended with a convivial drink on the Museum's rooftop from where all the participants enjoyed the beautiful view of the Mediterranean – one of the many seas included in the Ocean Protection awareness project. The students left full of new inspiration to complete the projects they will present on 3 May.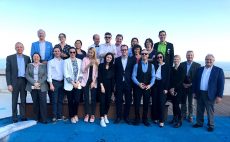 To learn more about Nick's trip to Monaco take a look at his vlog: